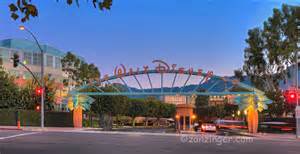 Walt Disney Studios is an American movie studio located in Burbank, California just northwest of Downtown Los Angeles. The studio was founded by famous movie creator Walt Disney who created the official mascot for the company, Mickey Mouse.
| | |
| --- | --- |
| | "When will it be released on DVD?." |
The Mascot
Edit
Walt Disney was born in 1901 who was the founder of The Walt Disney Company and created the official mascot for the company, Mickey Mouse, a bright, funny, kind, and silly black mouse who has a pet dog named Pluto and his best friend named Donald Duck. Over the years, Disney did several artworks for the mascot. In the early years of Mickey Mouse, the short films made by Walt Disney were in black and white, but later after a while, the short films were made in color. Mickey was seen in many films, but his first long film was the 1940 film Fantasia.
There were several movies made in the company which the early ones were made by Walt Disney, and later were made by several different people after Walt Disney died in 1966. There are movies that feature Mickey Mouse, and lots of others featuring other famous characters. The movies that were made by the company include:
Fantasia (1940)
Pinocchio (1940)
101 Dalmatians (1961)
The Jungle Book (1967)
Beauty and The Beast (1989)
A Goofy Movie (1995)
Mickey's Once Upon a Christmas (1999)
An Extremely Goofy Movie (2000)
Mickey, Donald, Goofy, The Three Musketeers (2004)
Chicken Little (2005)
Meet The Robinsons (2007)
Bolt (2008)
Wreck-It Ralph (2012)
etc.
Ad blocker interference detected!
Wikia is a free-to-use site that makes money from advertising. We have a modified experience for viewers using ad blockers

Wikia is not accessible if you've made further modifications. Remove the custom ad blocker rule(s) and the page will load as expected.