WALL-E is a 2008 American computer animated movie directed by Andrew Stanton, and produced by Pixar Animation Studios. This is Pixar's ninth film. In this movie, a robot named WALL-E who is in charge of cleaning up waste and trash around Earth but he is the only robot and possibly only living being on Earth after the Axiom, a large spacesjip, took off into space. WALL-E also meets another robot named EVE, who later becomes his girlfriend at the end of the film.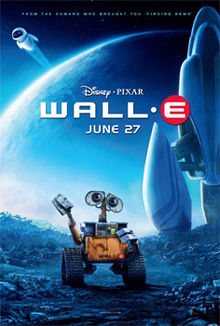 | | |
| --- | --- |
| | "When will it be released on DVD?." |
Ad blocker interference detected!
Wikia is a free-to-use site that makes money from advertising. We have a modified experience for viewers using ad blockers

Wikia is not accessible if you've made further modifications. Remove the custom ad blocker rule(s) and the page will load as expected.