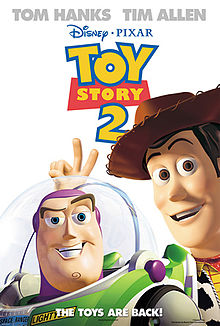 Toy Story 2 is a 1999 American computer animated film directed by John Lasseter and produced by Pixar Animation Studios. This is the third and final Pixar film made in the 20th century. This also the sequel to the 1995 film Toy Story and is Pixar's first sequel. In this movie, Woody the cowboy doll gets stolen by a greedy toy collector and is where he meets new friends. Buzz Lightyear goes and rescues him.
| | |
| --- | --- |
| | "When will it be released on DVD?." |
Ad blocker interference detected!
Wikia is a free-to-use site that makes money from advertising. We have a modified experience for viewers using ad blockers

Wikia is not accessible if you've made further modifications. Remove the custom ad blocker rule(s) and the page will load as expected.