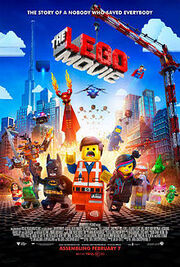 The Lego Movie is a 2014 American computer animated LEGO film directed by Phil Lord, and Chris Miller who both earlier directed Thomas Funck, and produced by Village Roadshow Pictures. It is the very first LEGO film to ever be made. In this film, an ordinary construction worker named Emmet finds a strange block named the "Piece of Resistance" and is proclaimed as a very special guy by a master builder named Wyldstyle, and a wizard named Vitrivius. They meet all sorts of characters including Batman, Unikitty, Metal Beard, Benny, and more. Their goal is to stop Lord Business from freezing and destroying the world with his powerful invention named "The Kraggle."
Ad blocker interference detected!
Wikia is a free-to-use site that makes money from advertising. We have a modified experience for viewers using ad blockers

Wikia is not accessible if you've made further modifications. Remove the custom ad blocker rule(s) and the page will load as expected.