Rio 2 is a 2014 American computer animated film directed by Carlos Saldanha, and produced by Blue Sky Studios. It is the sequel to the 2011 film Rio. In this film, Blu and Jewel have kids and venture off to the Amazon, where they need to raise their children and keep away the evil Nigel. Meanwhile, Linda and Tulio look for Macaws.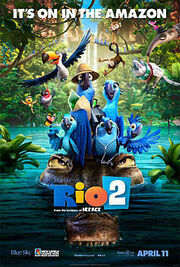 Ad blocker interference detected!
Wikia is a free-to-use site that makes money from advertising. We have a modified experience for viewers using ad blockers

Wikia is not accessible if you've made further modifications. Remove the custom ad blocker rule(s) and the page will load as expected.