Rio is a 2011 computer animated film directed by Carlos Saldanha, and produced by Blue Sky Studios. In this film, a bird named Blu and his owner Linda Gunderson, own a book store in Minnesota when a man named Tulio tells Linda and Blue that they are invited on a trip to Rio de Janeiro and check out his work place, but Blu gets seperated from Linda, after meeting a female bird who is the same species of bird of Blu, named Jewel. But they must avoid from an evil bird named Nigel, and at the end of the film, Jewel becomes Blu's mate.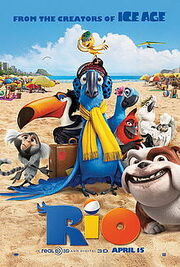 Ad blocker interference detected!
Wikia is a free-to-use site that makes money from advertising. We have a modified experience for viewers using ad blockers

Wikia is not accessible if you've made further modifications. Remove the custom ad blocker rule(s) and the page will load as expected.