Ratatouille (pronounced Rat-a-too-ee) is a 2007 American computer animated film directed by Brad Bird, and produced by Pixar Animation Studios. This is Pixar's eighth and first film after it's purchase by Disney, so the animation looks newer for Pixar movies from now on. In this movie, a rat who is wanting to become a chef ends up in Paris, France and checks out a very popular restaurant where he meets a clumsy character named Linguini, who he befriends and teaches him how to become a good chef.
| | |
| --- | --- |
| | "When will it be released on DVD?." |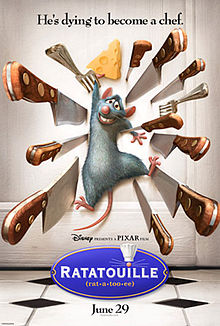 Ad blocker interference detected!
Wikia is a free-to-use site that makes money from advertising. We have a modified experience for viewers using ad blockers

Wikia is not accessible if you've made further modifications. Remove the custom ad blocker rule(s) and the page will load as expected.