Hop is a 2011 American computer animated comedy film directed by Tim Hill, and produced by Illumination Entertainment. In this film, a teenager bunny named E.B. ventures to hollywood where he meets Fred O'Hare, a clumsy but kind man who was earlier trying to get rid of E.B. In this film, E.B. wants to become a popular drummer, while his dad is trying to find him. E.B. does want to become the easter bunny, but has to stop an evil chick who wants to do the job.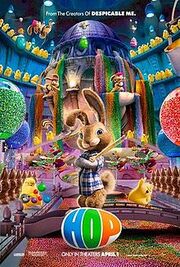 Ad blocker interference detected!
Wikia is a free-to-use site that makes money from advertising. We have a modified experience for viewers using ad blockers

Wikia is not accessible if you've made further modifications. Remove the custom ad blocker rule(s) and the page will load as expected.