Despicable Me 2 is a 2013 American computer animated film directed by Pierre Coffin and Chris Renaud, who earlier directed the first film. It is the sequel to the 2010 film, Despicable Me. In this film, Gru meets another agent named Lucy Wilde, who he and she are later trying to find out who is trying to take over the world, but he is also the owner of a mexican restaurant in the mall.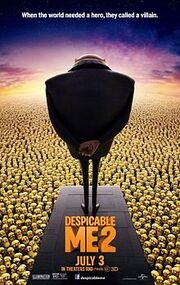 Ad blocker interference detected!
Wikia is a free-to-use site that makes money from advertising. We have a modified experience for viewers using ad blockers

Wikia is not accessible if you've made further modifications. Remove the custom ad blocker rule(s) and the page will load as expected.