Cloudy with a Chance of Meatballs 2 is a 2013 American computer animated science fiction film directed by Kris Pearn and Cody Cameron, and produced by Sony Pictures Animation. It is the sequel to the 2009 film Cloudy with a Chance of Meatballs. In this film, right after the events of the first film, Flint Lockwood's big idol, Chester V, visits Swallow Falls to help clean up the mess. So Flint and his friends are staying in San Franjose, California, a city that is a combination of San Francisco and San Jose. But everything ends up bad when Flint's invention from the first film starts to make foodimals.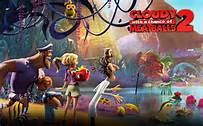 Ad blocker interference detected!
Wikia is a free-to-use site that makes money from advertising. We have a modified experience for viewers using ad blockers

Wikia is not accessible if you've made further modifications. Remove the custom ad blocker rule(s) and the page will load as expected.