Alvin and The Chipmunks: The Squeakquel is a 2009 American computer animated comedy film directed by Betty Thomas, and produced by Fox 200 pictures. It is the sequel to the 2007 film Alvin and The Chipmunks. In this movie, the chipmunks meet the chipettes named Brittany, Jeanette, and Eleanor, who are competing against the chipmunks to see who is better in a contest. the chipmunks also go to school while Toby Seville, Dave Seville's nephew, is watching the house while Dave is stuck in Paris, France after the rehearsal there.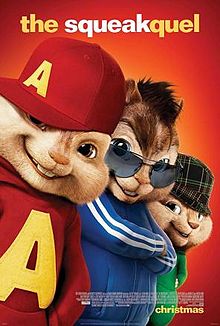 Ad blocker interference detected!
Wikia is a free-to-use site that makes money from advertising. We have a modified experience for viewers using ad blockers

Wikia is not accessible if you've made further modifications. Remove the custom ad blocker rule(s) and the page will load as expected.