20th Century Fox is an American film and television studio headquarterd in Century City, Los Angeles, California. It is known for creating many films and TV shows, such as Ice Age, Futurama, Alvin and The Chipmunks, and many more.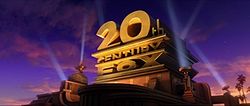 The studio was founded in 1932 by founders Joseph N. Schneck and Darryl F. Zanuck. The studio was originally named 20th Century Pictures Inc. until it got renamed to 20th Century Fox, a parody name of Fox Filmed Entertainment.
Ad blocker interference detected!
Wikia is a free-to-use site that makes money from advertising. We have a modified experience for viewers using ad blockers

Wikia is not accessible if you've made further modifications. Remove the custom ad blocker rule(s) and the page will load as expected.